Overview
CenturyLink Cloud offers customers a wide range of load balancing solutions in our product catalog. Customers who wish to quickly review the choices along with features and capabilities can use the comparison matrix below.
Comparison Matrix
Feature
LBaaS
Citrix VPX4
(Dedicated)
Marketplace
Control Integration1
Yes
No
No
High Availability
Yes
Optional
Optional
Mode/Port
HTTP
TCP/Any
Any
Any
Method
Round Robin6
Least Connection6
SourceIP6
URL Hash6
Listing
Varies by
Vendor
Persistence
SourceIP
Listing
Varies by
Vendor
Health Checks
Yes
Yes
Yes
SSL Offloading
No
Yes
Yes
WAF
No
Optional
Optional
Global Server Load Balancing
No
Optional
Optional
GeoIP Filtering
No
Yes
Yes
SLA2
Yes
Limited
Limited
Support3
Yes
Limited
Limited
Lifecycle Management7
Day 0
Day 2
Day N
Day 0
Day 0
Locations
VA1
VA2
UC1
WA1
IL1
NY1
CA1
CA2
CA3
GB1
GB3
SG1
DE1
DE3
AU1
Any
Any
OSI Model5
Layer 4
Layer 4
Layer 7
Layer 4
Layer 7
1: Control Integration at a minimum allows a customer to implement the service on-demand, operate it via self-service in the UX (or using API) with a pay as you go model.
2: SLA is defined as an agreement between CenturyLink and the customer to honor service availability for load balancing specific services via a master service agreement. Limited SLA's include Virtual Machine availability only.
3: Support is defined as an agreement between CenturyLink and the customer to provide technical support and incident management for the load balancing service. Tracking a Dedicated Load Balancer license expiration date is performed by the customer, please reference our License Management Article. Limited Support provides customer service engineers to confirm the infrastructure state and virtual machine state. Customers are responsible for all Day 1, 2 and N operational support.
4: CenturyLink offers various pricing models for the Citrix VPX virtual appliance based on performance and availability needs. Customers can elect to upgrade edition and availability configurations at any time.
5: Layer 4 is related to fourth layer of the OSI model: transport level. For example: TCP and UDP protocols are transport level. Layer 7 is related to seventh layer of the OSI model: application level. For example: HTTP, FTP, SMTP, DNS protocols are application level.
6: All algorithms support "weight" concept. The "weight" parameter is used to adjust the server's weight relative to other servers. All servers will receive a load proportional to their weight relative to the sum of all weights, so the higher the weight, the higher the load.
7: CenturyLink provides lifecycle management based on Day 0 (Install: Import, IP Device), 1 (Configure, Operate), 2 (Optimize, Compliance) and N (Upgrade, Patching) methodologies. Customers are responsible for any operational support that is not included in the base offering.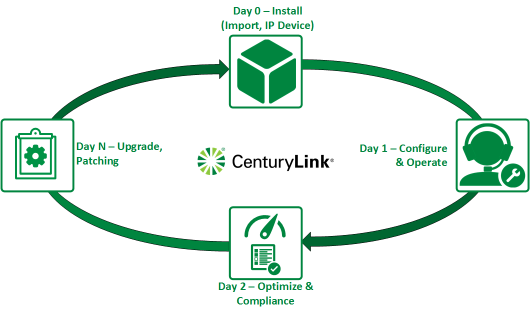 Additional Details
The links below provide supporting material that can assist a customer with further evaluating the proper load balancing service for their needs.